The best paper towel dispensers for your washroom
Paper towels are undoubtedly a convenient and effective method of hand drying and often the preferred choice for washroom users. They are also silent and therefore an ideal solution in areas where the noise of a hand dryer could be problematic such as in offices or care facilities where people are sleeping. They also don't require power and so can be easily installed and avoid the cost and inconvenience of providing a fused spur in the washroom.
Housing paper towels in a wall mounted dispenser helps to keep the towels neat, dry and free from contamination. They also help to reduce waste by presenting the towels one at a time. Although users may use more than one, they are likely to use less than they might when grabbing a few from a pile on a counter-top. Such a pile, whilst looking attractive and luxurious, has the potential to become damp as they catch the drips from other users and splashes from taps.
How to Choose the Right Washroom Paper Towel Dispensers
With so many paper towel dispensers available to choose from what makes a good one and more importantly what factors do you have to consider when selecting the one that's right for your washroom?
Firstly, choose your preferred paper; this is where you are going to be spending the most money over the forthcoming years. Start by estimating the potential usage for your business. Whilst this can be difficult we would recommend as a rule of thumb:
· Offices and work environments – staff will visit a washroom on average 2 – 4 times a day. Assume a couple of towels per hand dry, multiplied by the number of people on site and working days and this will provide a guide to the number of paper towels used in a week.
· In leisure and care facilities where the washroom footfall is more fluid, ascertain usage by looking at the number of visitors each week. Weigh up the quality versus cost. Provide the luxury expected by your clients but don't over specify unnecessarily.
· Finally, consider the environmental benefits of recycled paper. By using a waste bin specifically for used paper towels you can also recycle them to complete the loop.
So, once you've decided on the type of paper consider the best dispenser to house it. A wide range of design, materials and finishes are available.
Material Used to Manufacture Paper Towel Dispensers
Stainless steel or plastic are two of the most common materials used to manufacture paper towel dispensers. Dudley Industries are specialists in manufacturing stainless steel washroom dispensers and whilst we have provided different materials over the years we have always believed that metal is best. It provides the robustness, reliability and security needed whilst being undeniably stylish and attractive. And whilst more expensive initially than plastic alternatives, metal provides outstanding value for money in the long term.
Which Stainless Steel Paper Towel Dispenser Should You Choose?
Type of Paper
With a whole range of paper towel dispensers on the market, choosing the best type for your business will depend on a few factors. Depending on the type of paper you opt for will heavily impact your decision on what dispenser to use. For example, there are paper towel dispensers suitable for centrefeed paper and dispensers suitable for multi-fold paper.
Size of Dispenser
Once you have decided on paper, size of the dispenser plays an important role. You may opt for a larger dispenser that houses more paper to keep up with higher demand and lower the amount of maintenance by cleaning times. The space you have in your washroom may also be a deciding factor. In washrooms that are limited on space, smaller dispensers may be more suitable or alternatively you can select options that utilise space such as this recessed paper towel dispenser or behind the mirror dispenser.
Style & Finish
An important consideration when you choose paper towel dispensers is style and the importance of presenting the right brand image. Whilst stainless steel dispensers are naturally stylish, you may find that dispensers with rounded edges or dispensers with sleek lines may be more suited to your business' washroom environment.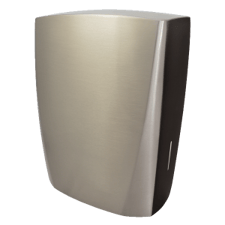 Find the Right Paper Towel Dispenser at Dudley Industries
Hand Hygiene is one of the most effective ways to keep your teams and visitors healthy. Providing effective and reliable hand washing facilities demonstrates your level of care provided to washroom users. Installing stylish dispensers will enhance your washroom and help you present a stylish, clean, hygienic and caring washroom environment.
At Dudley Industries we have been designing and manufacturing metal washroom dispensers since 1942, we are experts in sheet metal engineering designed specifically for the washroom environment.
We provide over 17 styles of paper towel dispenser, so we are confident that we have a design that is ideal for your specific environment. These designs are also available in a variety of colours and finishes.
Our wall mounted dispensers are easy to install and come with an installation kit and instructions. All units are lockable helping to keep the contents secure and prevent pilfering and wastage.
The recessed and behind the mirror dispensers are the first choice for architects and specifiers not only do they look ultra-stylish but they also utilise the space in washroom design to ultimate effect.
The latest additions to our range are designed specifically for care facilities. Our anti-ligature dispenser, designed in-conjunction with a leading industry expert, minimises points in the dispenser design where a ligature could be attached and used by the vulnerable to afflict self-harm. Installed with a wall plate it helps to support and protect those living with mental health issues.
Contact Dudley Industries
If you would like to find out more about our full range of dispensers and gain advice on the best ones for your washroom don't hesitate to call our team who will be happy to help you.